CFD Survival Guide – Try before you buy
Try 2 free chapters, see what you think and then you decide.
After reading the 2 free CFD chapters you have the option to purchase for $97 and then you still get a full 60 day money back guarantee so its your choice of:
Option 1.
Enter your details, we will re-confirm your email (as part of our anti-spam policy), you will receive the 2 chapters and be subscribed for CFD updates which you can unsubscribe from at any time.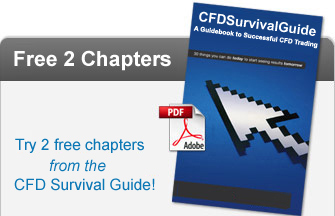 Option 2.
Order the full version now and pay by Paypal or Credit Card through the secured link and you have 60 days to view and decide. If you are not 100% happy – email me and you will get your refund instantly with no questions asked.
Remember, when you buy you also receive the 3 additional bonuses.
Bonus 1. The must questions to discover 'Which CFD provider is best for me'
Bonus 2. A proven Trading journal template. This is delivered in pdf and Word format in case you want to personalise it
Bonus 3. The 9 steps in defining your CFD journey, the outcomes and risk. This gives you a detailed example as well as a template for you to complete or personalise.
Just one of the many hints and tips contained in the book could save you many times its cost!